Double Trouble
Recently I told you about the "one Gospel" found in the Bible…in Paul's writings. But I wasn't being completely truthful with you. Paul was, but I wasn't. So, I've got double trouble for you today. Especially if you think the one Gospel Paul talked about in Galatians is the only one. I'm about to burst that bubble. (If you prefer to listen, here's the Rhyme and Reason Podcast episode 223…


Podcast: Play in new window | Download
Tune In On iTunes Apple Podcasts | Google Podcasts | Spotify | Android | Pandora | iHeartRadio | Stitcher | Email | TuneIn | Deezer | RSS | More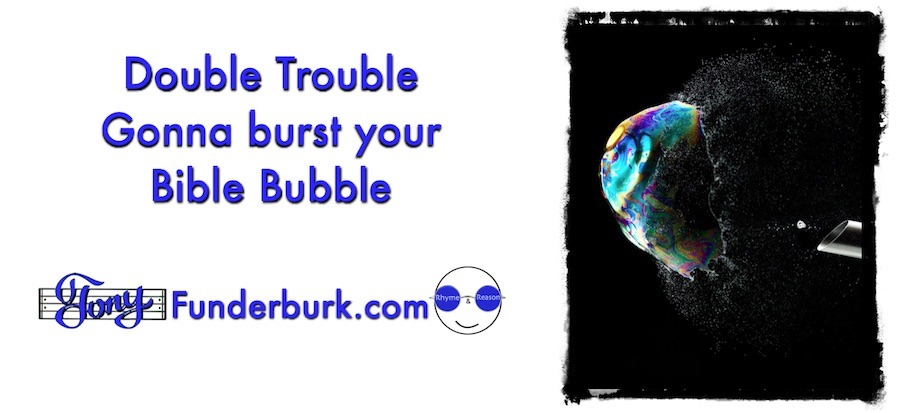 Here's what I said in my "one Gospel" article: "Not every worldview or perspective or even so-called 'gospel' can be true. The word 'gospel' comes from an old English word, 'godspell' which simply means good news or glad tidings. And that word comes from a Greek word that means 'good message'. When the apostle Paul wrote about there being only one gospel, he was referring to the 'gospel of Christ' There can only be one 'good news' of Christ. That good news is simply this…that Jesus came to die for his people, the Jews…they rejected Him, and so He took His message of eternal life to the Gentiles through His Apostle Paul."
Here's where the double trouble comes in.
There's another Gospel found in the New Testament. Gasp! And it's also the "one Gospel". Uh…what? Yeah, there are two Gospels in the New Testament…and they're each the "one Gospel". Sort of depends on who you are.
I'll let you in on a not-so-well-kept secret. I'm not a Jew. I've never been one, and I never even played one on TV. So, the other "one Gospel" found in the New Testament isn't for me. Because it's for Jews. You can start to sort this out once you know who's writing to whom. Here's a hint: if you're not a Jew, the Apostle Paul's writings are to YOU. If you ARE a Jew (at least one who wants to trust and believe in Jesus as savior), then all those other books in the New Testament are to YOU.
Peter, James, John, and the other nine apostles (excluding Paul) wrote letters (those books) to Jews who wanted to trust Jesus to be the Messiah…but…who just couldn't seem to give up following the Law of Moses.
Paul wrote letters (those other books in the New Testament) to anyone who wanted to believe in Jesus based on faith alone. Mostly those people were known as Gentiles. Anyone not a Jew. Like me. And you? So, almost by necessity (unfortunately) two Gospels rose up. Peter (and the twelve) took what Paul called a "circumcision" message to the people of Israel. And Paul took what he called the "uncircumcision" message to the Gentiles.
I call it double trouble because it can burst your Gospel bubble.
You can doubt me or disagree with me, but you'll be doubting and disagreeing with the Bible, too, if you do. That's entirely up to you. But again…don't take my word for it. Go read the Bible. I promise…the proof is found in one of Paul's letters. But you gotta be ready to have your bubble burst. Are you ready to roll the rock?
Subscribe to
Rhyme and Reason with Tony Funderburk
Or subscribe with your favorite app by using the address below
You can also jump on the one-of-a-kind Rhyme and Reason Bandwagon today and get my latest words, music, and voice delivered to your inbox instead of having to come looking for them all the time.
And share with your friends, family, and other business owners by using any of the social media links below.
Stay tuned,