Get The Rhyme and Reason Podcast Delivered, Free Apple Podcasts | Google Podcasts | Spotify | Amazon Music | Android | Pandora | iHeartRadio | Stitcher | Podchaser | Podcast Index | Email | TuneIn | Deezer | RSS | More
Which is more important? More essential? And more vital to human endeavors? Peace or liberty? If you chose peace, go sit down in the back of the class and think about what you just did Mr. Man. Or Missy Miss. Because when, in the course of all human events, did peace throw off the shackles of tyranny?
Now, it would certainly be primo if we didn't have to choose between peace and liberty.
But, just in case you hadn't noticed, we don't live in a perfect world. And there has, so far, been no rapture. So, there's a whole lot of non-peace stuff going on. Even right here in the good ol' so-called U S of A.
And I say "so-called" because America is anything but united. But guess what? In a Way, that's a mighty good thing.
"What?! Division is a good thing?! What kind of crazy talk is this?!"
It's the kind of "crazy talk" your Creator talked about. Yeah, He backs me up on this whole peace or liberty thing. And you don't have to take my word for it. Because it's in His word. He actually said He didn't come to Earth to bring peace. In fact, He said He came to bring a sword.
But not because God doesn't want you and me to have peace. But because He requires us to choose. And the Truth of His word (aka His sword) can divide fathers and sons, mothers and daughters, friends from friends. The Truth does that.
I wrote a song about it, which is included on my Amen collection of songs, and gave His sword another name. Not because I think it's better. But because it fit the rest of the lyrics to…
The Master's Knife
Don't be thirsty;
drink from the Living Water
Don't be hungry;
eat from the Bread Of Life
Don't be weary;
you're stronger when you serve
Don't be defenseless;
carry the Master's Knife
(repeat)
Even when days last forever
And when the nights bring no comfort
Know that the One who created
Lived and then died for your hurt
repeat chorus twice
Anguish won't end,
if you trust your own hearts
What matters most
is who's living within
Turning your backs on the facts is a farce
Give up your life
to the One who became your sin!Ӭ* Jesus *
© 2000 Tony Funderburk
Stay tuned,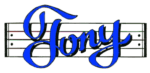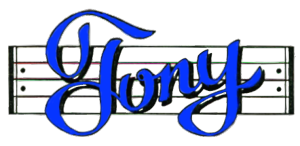 Get my Rhyme & Reason Podcast delivered (free) right to your device.
My books are also on Amazon.com or Apple Books
Grab yourself an un-cool T-shirt
Or how about some music for kids