Will they remember the sound of your voice?
Are you a sound shaker? Or a noise maker? A lot of people and businesses know how to make a bunch of noise. But not many know how to create unforgettable, satisfying sounds. And they certainly don't know the value of personalized sound. Something I've been calling audio branding for a long time. You might not believe this right now, but if you have a product or service other people need, there's a lot of them who would enjoy the sound of your voice. (If you'd prefer to listen to the rest of this rather than read, check out this episode of the Rhyme and Reason Podcast)

Podcast: Play in new window | Download | Embed
Tune In On iTunes Apple Podcasts | Android | Email | Google Play | Stitcher | TuneIn | RSS | More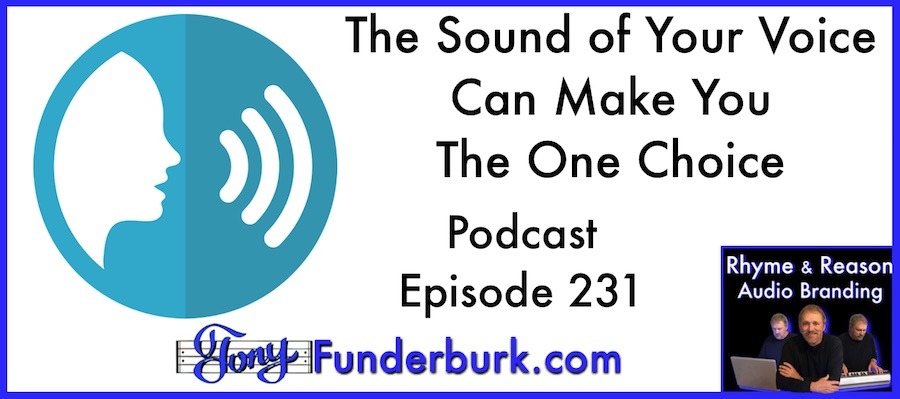 The sound of your voice is more than what you might think.
You've probably met (or had to endure) people who seem to love the sound of their own voice. They ramble on and on about…well…who knows what? If you're like me, you probably tune 'em out after the first paragraph. Right? And that's not the voice I'm talking about.
Your voice, from a business or entrepreneurial perspective, is more like another dictionary definition. "the distinctive tone or style" It's what sets you apart from your competition. Even more than video. Or better yet, always include your voice in every video. Or podcast. Or advertisement. Set yourself apart. And nothing does that better than the one-of-a-kind sound of your voice.
Most of your competitors haven't found their voice yet.
They're probably like you. They've gone through the hoops of picking colors, shapes, and themes for a logo. And they've added that to their website, their letterheads, and all their other business related junk. Uh…stuff. And none of that is evil. But none of that is fist-pumping, yippee ki yi yay either. Logos don't tend to find a warm place in your brain and settle in.
But sound does!
Here's the rub, though. Sound is harder than noise. And most people are looking for the easy way. The stuff they can copy and paste and put up "in the cloud" every day. That's noise. But you don't wanna make a bunch of noise, do you? You're looking for a way to stand out and be noticed. Right? That's where sound…audio branding…shines like the sun on  the summer solstice.
Grab my free book on audio branding just by sending me your name and email address. You'll see the offer on the side of my website. It's an easy read. You can probably finish it in a couple of hours. It'll help you to see more advantages to finding and sharing the sound of your voice. And it even shows you how to do it yourself. Of course, if you'd rather have some help producing a unique sound for you or your business, you know where to find me.
Stay tuned,