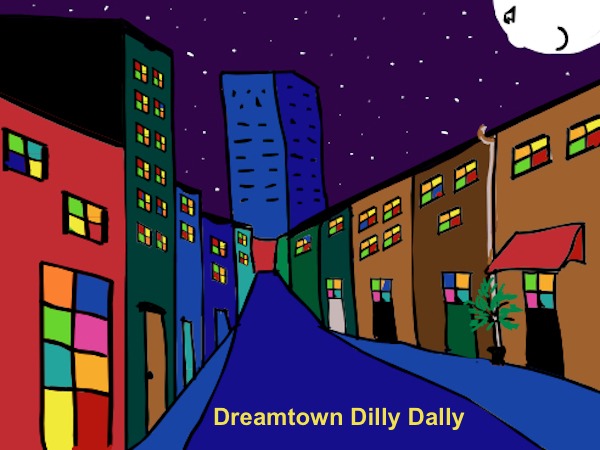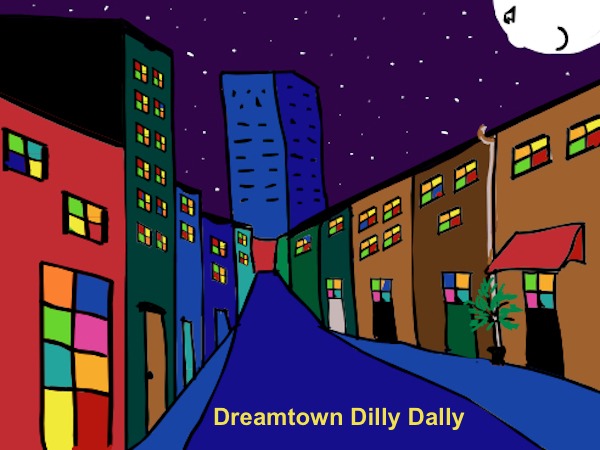 Daren was a dreamer. In fact, his name means "born at night". But Daren couldn't dream at night. When he went to sleep, there was only darkness…no pictures, no sounds, no dreams.
But Daren could sure daydream. All day long he daydreamed of faraway places. He imagined himself flying or floating over kaleidoscope clouds to tinseled towns. His mind made music to go along with the thoughts. And he'd hum and daydream till bedtime.
Then…his dreams would stop.
This made Daren very sad. He had always heard that dreams were magical. The grownups said "anything can happen in dreams". And Daren could only imagine how wonderful that must be. He figured if his daydreams were so colorful and fun, then his night dreams would have to be even better.
Yet…night after night…no dreams.
One evening Daren headed home after hours of daydream adventures. He kicked a large, brown pine cone down the narrow path that snaked beside the forest. As usual he hummed to himself and didn't notice a voice from in the trees. He kicked the pine cone with his left foot. It bounced off a tree stump and into the bushes at the edge of the forest.
"No matter," he thought. "Plenty more where that came from."
As he turned to start back down the path the voice came out of the trees again. This time Daren heard it and nearly fell over as he jumped around.
"Who's there?" he hollered.
"I'm Drocco…dewdrop collector, forest protector, and Dreamtown selector," the voice answered.
"There's no such person," Daren yelled back. "And if you really are all those things, why are you afraid to show yourself?"
Suddenly a voice came from behind Daren. It was so close he could feel the breath…
"Afraid? Ha! that's the tadpole calling a toad a frog!"
Daren whirled around to face this teasing trouble maker.
"Oh yeah…", he started…but there was no one there.
"Nice jump little daydreamer," the voice taunted. It sounded like the voice was almost inside Daren's right ear. Without thinking he swatted his ear with the back of his hand, and he heard the voice…
"Hey watch it! Oh noooo….", and then there was a tiny thud in grass.
Daren looked down and saw a tiny, blue man lying on his back. He wore a tiny emerald colored hat with one tiny, shimmering white feather. The rest of his clothes were emerald green too…except for his tiny, shiny black boots. He didn't appear to be hurt. He just lay there looking back up at Daren.
"Who in the world are you?" Daren asked.
"We're not gonna go through all that again, are we?" the tiny, blue man answered. And he got up and dusted off his clothes.
"You? You're the dewdrop collector, forest protector, and Dreamtown selector?" asked Daren. "I can maybe see dewdrop collector 'cause you're so small…but the rest?!"
"Hey daydreamer…have you ever met another dewdrop collector, forest protector, and Dreamtown selector?" the tiny, blue man snapped.
"Well…no…"
"Then how would you know anything about how big one has to be?"
"I guess that's true," Daren admitted. "And what did you say your name was? Crocco?"
"Drocco…Drocco…D-R-O-C-C-O…why does everybody get that wrong?" asked Drocco. "Must have something to do with all those funny looking shoes you daydreamers wear."
"That's another thing," said Daren. "Why do you keep calling me daydreamer?"
"Well, isn't that what you are?" Drocco quickly answered.
"Sure, I s'pose," said Daren. "But how could you possibly know that?"
"Because," said Drocco. "I'm the dewdrop collector, forest protector, and Dreamtown selector."
"Oh no…here we go again," Daren was getting impatient.
"Now hold on," said Drocco. "As Dreamtown selector it's my job to know who all the daydreamers are. And I also have to keep track of whether they dream at night or not. And I happen to know that you don't. What do you think about that?"
"Well…you're right…but I still don't see how you know," said Daren. "And why do you have to keep track of who dreams at night?"
"Because…it's not good to sleep without dreaming," Drocco answered. "Dreaming makes it easier to face the day when you wake up. And even though you don't dream at night you're in luck."
Daren was curious. He could tell by the look on Drocco's face that he had some secret thing to tell. So he just had to ask…
"I'm in luck? What do you mean by that?"
"You're in luck because I'm the Dreamtown selector. I get to help the people who don't dream get to Dreamtown. So…guess what…I get to help YOU go there," Drocco seemed very sure of himself. "Would you like to go?"
"Oh yeah," Daren blurted. "How can you help me? What do I have to do?"
"Glad you asked," said Drocco. "First thing is…you have to trust me. Some of it may sound a little weird."
"This whole thing is weird," Daren chuckled. "But…OK…I trust you. Let's do it."
"Great," said Drocco. "Now…put me on your shoulder and I'll be your guide."
Daren picked Drocco up and put him on his shoulder. "OK, where to first?"
Drocco pointed to the forest and said "Go straight in and don't make any turns."
So Daren walked straight into the forest and didn't make any turns. After walking just a little while he saw a deep green glowing light ahead.
"That's the emerald green grass up ahead," Drocco explained. "Go there and stop."
When they got there, Daren saw the emerald green grass growing in a perfect circle. He had never seen such a beautiful green. And the glowing made him feel peaceful inside.
"Now what," he asked Drocco.
"Look up," answered Drocco. "And see the clouds hanging low in the sky. They hang down like that so the sun and moon won't hurt your eyes."
Daren looked up. The sunlight and moonlight seemed to blush through the clouds.
"And now," Drocco added. "You should start to feel the mist of tiny raindrops on your face and your hands."
Sure enough, Daren felt the most pleasant mist on his face and hands. But his clothes weren't getting wet. What a strange and peaceful feeling.
"Alright, here's the best part," said Drocco. "Lie down in the emerald green grass and close your eyes. Soon you'll see the alabaster butterflies."
"Alabaster butterflies?" Daren repeated. "What are those?"
"They're butterflies as big as you. And they're so beautiful, shiny, and white…almost like your mother's dishes…and they glide down and scoop you up…and you float all the way to Dreamtown on their backs," Drocco smiled as he told the story.
"That sounds wonderful," said Daren. "I'm ready."
"That's fine and dandy," Drocco replied. "But I suggest that when you get to Dreamtown you dilly dally for as long as you like. Take time to enjoy every part of it."
"I will…I will," said Daren. "But I wanna go right now."
"Easy there, daydreamer," Drocco said calmly. "Just lie down slowly and let me off your shoulder. I'll stay here and wait with you till the butterflies come."
Daren was soon flat on his back in the emerald green grass. He closed his eyes. The mist of tiny raindrops fell gently on his face. And before he knew it, here came the alabaster butterflies. They glided down like graceful jellyfish. Suddenly one of them scooped him up on its back and off they floated.
In a flash Daren found himself in a tinsel town better than all those in his daydreams. Every window of every building was a different color. And each one blinked and changed colors. Daren wanted to run down every street and see everything at once. But he remembered how Drocco told him to dilly dally.
So he walked slowly down the main street. Faces smiled at him from inside shops. All around him were Christmas lights, fireworks, and candy cane lamp posts. A dog chased a cat…and they were both flying in the air. Daren started to laugh, but no sound came out. Then he saw lots of familiar faces…his family…Mr. Jones, the next door neighbor…his teacher Miss Briggs…the news guy from TV. He tried to say hi to each of them, but no sound came out.
It was starting to get a little scary. Daren didn't want to miss all the wonderful sights in Dreamtown, but he couldn't talk. And he began to worry.
Then, out of nowhere, Drocco popped in.
"Alright Droc…", Daren couldn't finish his sentence.
"It's OK, Daren," Drocco said in a soft voice. "I know you can't talk, but I can hear your thoughts. You've dilly dallied in Dreamtown long enough for now. All you have to do to go back home is open your eyes."
Daren just stood there and stared at Drocco.
"Open your eyes, Daren," said Drocco. "It's time…"
"…to get ready for school, Daren," a familiar voice chimed in. "C'mon Daren, wake up"
It was mom! Daren opened his eyes and looked around. He was lying in bed in his favorite Green Lantern sheets. He sat up real fast and looked around some more. Yep, it was his bedroom alright. Toys, comic books…everything was there.
Daren jumped out of bed and rushed to look out the window. The sun was coming up on a beautiful morning. He looked down in the backyard. His bike was still there. So was the swing set. And there was mom's flower garden full of bees, butterflies, and hummingbirds.
"Well, what you do you know," he said out loud. "I finally dreamed at night."
As he headed down to breakfast, Daren stopped on the stairs and whispered…
"Thanks Drocco…wherever you are. I won't forget you."
 
Stay tuned,


P.S.  Get my children's books on Amazon.com
Add my page on Google +
Like my fan page on Facebook
Follow me on Twitter
Watch my videos on YouTube