Creative Copywriter in Colorado Springs
Helps You Be Seen AND Heard
Things come to life when you hire me. Why? Because I'm THE creative copywriter with the words, music, videos, and voice your business might need to succeed. It's time you get the unforgettable advantage over your competitors. There are plenty of voiceover artists out there. And you can find scores of content writers. Also, there is no shortage of singer/songwriters with a guitar and a laptop. But only the little ol' creative copywriter in Colorado Springs has all that covered. Because I can talk your brand, sing your brand, and write your brand. Want proof?
Click the player if you'd rather listen to this whole page instead of reading:
media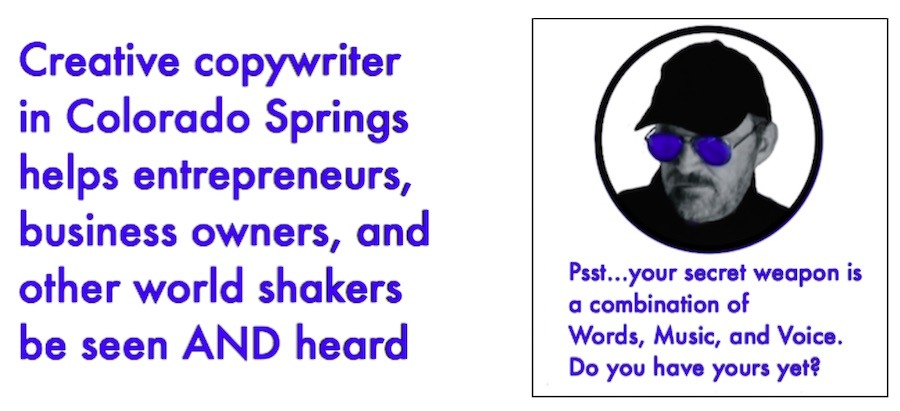 Would you be impressed if I told you I've written for startup entrepreneurs all the way up to $300 million dollar companies? And would you think it was cool if I played you some branding music I composed and produced for seven and eight figure businesses?
Still not convinced? Well, you can contact me and ask for writing samples if you like. But I don't post them on my website anymore because every project is unique. You're not the same as the business down the street or in the next city. So, why would you want their message?
So, can a creative copywriter in Colorado Springs write your message?
Who knows? It would be stupid of me to claim I can write you a successful ad, or some web content, or any other power words without even talking to you about your business. And anyone who says they can…might just be trying to separate you from your cash.
I never claim to be able to work with anyone and everyone. In fact, I might tell you we're not a good fit. And if that's the case, I'll see about referring you to someone else. It's because you and I might not share a workable worldview. And that would be a recipe for disaster. Or you might not like me telling you things as much as asking you. I get it. Not everybody appreciates that.
Also, you might just want someone to help you fill up your website with content and not share ideas about why filler stuff is just stuff. That's not me.
Or you might be looking for a writer who can wow the socks off your audience with four and five syllable words. Again…not me.
I know lots of silver dollar words.
But most people who buy things or services or information (and you wanna sell, right?) don't care much about vocabulary. They wanna know you care about them. I can help you show them you do. In a way they won't be able to forget.
Yeah, little ol' me…the rhyme and reason creative copywriter in Colorado Springs, Colorado. Who would've thunk it? Other than my many happy clients, of course. Check out a bunch of their comments over there in the sidebar.
When you're ready for your unforgettable advantage, put your name and email address in the form and send me a message. And even if we don't end up working together, I'll send you some fun free stuff you and your family will get a kick out of.
Stay tuned,